Caution: Spoilers below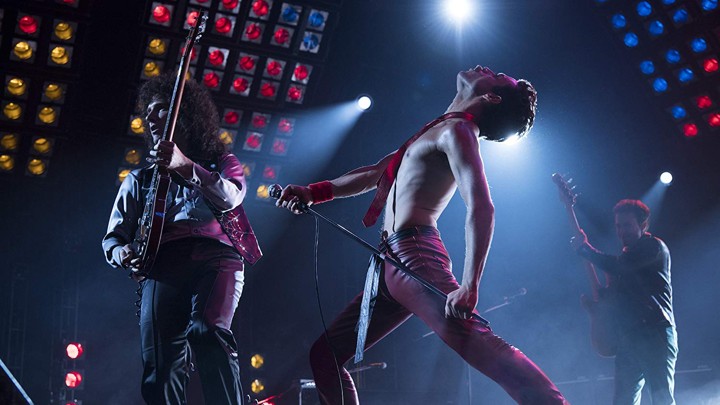 If you are a big fan of Queen, Bohemian Rhapsody is the movie you need to see now. If you do not want to see a movie that is two hours long, then Bohemian Rhapsody is not for you. Bohemian Rhapsody tells the true story of friendship, love, and music of the Rock and Roll group Queen.This movie will make you laugh and cry. After watching Bohemian Rhapsody, you will be singing majority of Queens songs for the day.  Rami Malek, Ben Hardy, Joseph Mazzelo, and Gwilym Lee portray the group Queen absolutely perfectly. Rami Malek portal of Freddie Mercury was also outstanding. His portrayal Freddie Mercury's style and performance was amazing. While I was watching Bohemian Rhapsody, I learned many facts about Freddie Mercury that I did not know. First, I did not know that Freddie Mercury was Middle Eastern. The movie also goes into depth how Freddie Mercury tries to hide his Middle Eastern background to his family. Second, I also didn't know that Freddie Mercury changed his named. Freddie Mercury's original name was Farrokh Bulsara. As mentioned before, Freddie tried to conceal his cultural background.
Bohemian Rhapsody also goes into depth about Freddie Mercury's relationship with Mary Austin. Freddie Mercury met Mary Austin at a concert  before he even joined the group Queen with his other band mates. In my opinion, when Freddie first saw Mary it was love at first sight. After a couple years and some tours, Freddie Mercury told his ex fiance that he was bisexual. She later says how he is gay and how she wont hate him. Freddie still loves Mary even after they break up. When Mary Austin told Freddie Mercury that she was pregnant, he was very hurt. Even though Freddie and Mary didn't get married, they continue to love each other which is beautiful.
Bohemian Rhapsody goes into Freddie Mercury's toxic relationship with Paul Prenter. Paul Prenter and Freddie Mercury worked together for many years. Paul Prenter later  moved his way into Freddies life to ruin it. In Bohemian Rhapsody, it tells how Paul Prenter wouldn't tell Freddie about many things. For example, Mary would call Paul, but he will come up with a quick excuse how Freddie was working and he couldn't talk. Queen almost missed performing at the Live Aid concert due to Paul Prenter toxic ways. It is also very apparent in the movie that Freddie Mercury most likely got aids from Paul Prenter. Freddie Mercury and Paul Prenter weren't officially a couple. The toxic relationship between Freddie Mercury and Paul Prenter teaches viewers to always trust your back with people.
The Bohemian Rhapsody movie was a must needed film for the world to see. I would give Bohemian Rhapsody ten out of ten stars.