picture: Johnny Nunez
Cardi B shaded Nicki Minaj on Twitter, and her fans are not happy about it. Nicki Minaj and Karol G recently collaborated on a song called "Tusa." Controversial YouTuber Tasha K and Cardi B have had a VERY messy past. Cardi B actually sued Tasha K for defamation of character. Tasha K posted on Twitter wondering why Cardi B was not on Karol G's latest song, since she is a Latin artist.
Cardi B actually responded back stating, "Cause I passed on it…now sip that."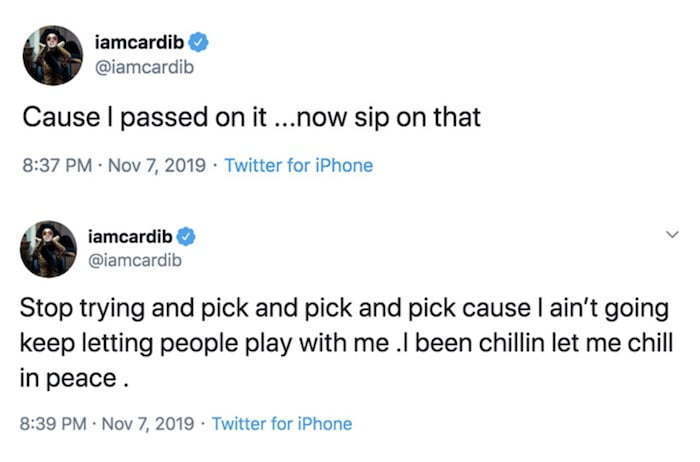 Most celebrities would have ignored the comment,but Cardi B decided to shut Tasha K down. Many people were left confused,because was there a purpose of Cardi B responding to Tasha K's tweet? On the other hand,did Cardi B just want to be petty about the song "Tusa"?
An internet troll responded back to Cardi B's tweet stating, "Don't get beat up. "This tweet has since been deleted. Cardi B retweeted his tweet and told him the exact address where she was at. The troll said he wanted no trouble, and the feud dimmed down. Cardi B told the troll, "I'm not trolling, I pull the f*ck up."