Good Boys is a movie that proves to be hilarious and inappropriate.
In the sixth grade, I was playing Movie Star Planet and Club Penguin. On the other hand, sixth graders now think that they are adults who rule the world. Max (Jacob Tremblay), Lucas (Keith L. Williams) and Thor (Brady Noon) are the main characters of the film Good Boys. Max, Lucas, and Thor are friends apart of "The Bean Bag Boys." You can't lie this squad name is fire.
Long story short, Good Boys is a film that portrays kids that desperately want to have their first kiss. Max gets invited to a cool kids party. Want to know what they are going to do at this party ? This middle school party is going to include kissing and taking one sip of beer. Who knew drinking beer was so cool. Good Boys also portrays a cat and mouse chase with two drug addicted teenagers, almost dying running across the high way, peer pressure, and just everything explicit.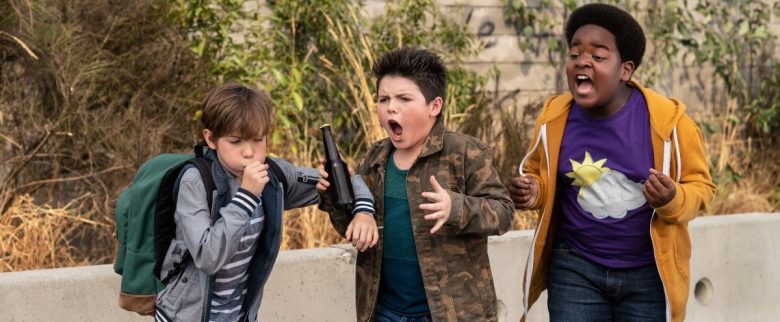 Thor is a character who loves to sings. Due to bullying and peer pressure, he quits singing to fit in with the cool crowd. Thor even gets his ears pierced to fit in. Also, Thor steals a beer and puts it in his pants. Thor is funny and just a complete sweetheart underneath. You definitely need a friend like Thor.
Lucas is a character who is totally honest, maybe too honest. He even told a police officer that him and his friends had drugs. Lucas plays by the rules, but he will stick up or his friends in a heartbeat.
Good Boys shows viewers that no matter what crazy situations you go through in life, you always need your friends. This film shows viewers that middle school isn't as perfect as it seems. Many things happen behind closed doors. While Max is running around town trying to find his dad's drone, he doesn't know that Lucas parents are getting a divorce. I would recommended watching the film to understand what I am saying.
Besides the crazy middle school drama, Good Boys is a film that will make you laugh until you pee on yourself I never laughed so hard watching a movie until Good Boys. Good Boys is a great movie to watch with friends and family (if everyone is over 15 years old at least).